Pathways to the Family Soul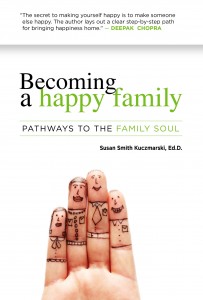 There is no perfect family. We are all works in progress. This book is a must read for anyone searching for answers to the family happiness puzzle, which in many ways is all of us. It serves as a guide to find the "sticky glue" that supports the family bond, to enhance the family's spirit and energy and to deepen connections across the family network, which is today refreshingly diverse in membership and structure.
Every family has some degree of imbalance, some more than others, and every reader of this book can gain a clearer picture of how to nurture happiness, care for a family's soul and, just as importantly, engage and encourage other family members in this quest.
You can't touch the soul of the family, but you are touched by it every day. Family soul is the memories and traits that make the family unique, including rituals, stories, experiences, conflicts and love. It is the family's complex network of relationships, values and activities. It is how we talk, feel and interact when we're together. You will learn how to:
Fortify the family soul with six vitamins or strengtheners—humor, emotion, acceptance, renewal, togetherness and struggle
Identify and applaud the "caretaker"—the champion of the family soul
Use the happiness tool kit—ten tangible ways to help families think and do differently
Recognize and apply practices that are integral to carving out happy and dynamic families: start a family of one's own, welcome in-laws and special people, bond with friends, discover a soul friend and add pets to the scene
The exercises and tools are practical, accessible and easy to implement. The author weaves together dozens of colorful, funny and tender anecdotes that surfaced in her research, with illustrations that capture their spirit and theme. Written with empathy and good humor, the inspiring ideas and tips found here will motivate you to listen selflessly, speak from the heart, and practice whooping and praising descriptively—starting now!

"Kuczmarski wants you to discovery, appreciate, and expand the soul of your family. In an increasingly busy world, it can be difficult to maintain and nurture connections, but it is vital to keeping family as a source of refuge, growth, and strength. Breaking the family into three fundamental roles (functional, emotional and soulful) the author explores methods and meditations to understanding your family dynamics that incorporates rituals, memories, experience, stories, and people, including complimentary outsiders who bring special meaning to the structure. Somewhat a memoir of her own upbringing and experience, this warm and compassionate guide helps us to remain conscious about the family soul and celebrate its uniqueness."
— The U.S. Review of Books